Farmers Protecting Bridgewater Streams, Results Update Meeting
March 21, 2023, 5:30 pm – 8:00 pm
American Legion Hall 112 5th St NE, Faribault, MN
Dundas, MN area farmers, Clean River Partners and Rice SWCD have cooperated to reduce the nitrate-nitrogen level in Rice Creek by 43% through cover cropping and conservation tillage! Join us on March 21st to learn about this conservation effort and the research that includes not only findings of how cover crops limit nitrate losses but also findings on how cover crops affect crop yields. This event will feature the farmers and local partners that collaborated on this project as well as an area groundwater expert. Learn how you and your farm can get involved. A complimentary meal and beverage will be provided.
Please register for this event HERE. Contact Dane McKittrick at 630 777 9037 with questions.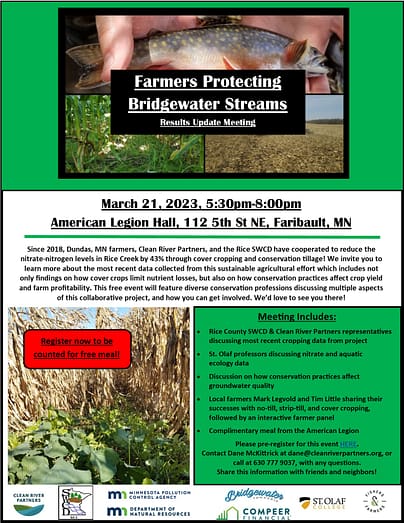 Sponsored in part by the City of Faribault
"Poultry Welfare in Regenerative Farming" Guest Lecture with Dr. Leonie Jacobs
March 23, 2023, 1:00 pm – 2:00 pm
Weitz Center for Creativity, Carleton College, Northfield, MN
Join the Regenerative Agriculture Alliance (RAA) and Clean River Partners as we welcome Dr. Leonie Jacobs of the School of Animal Sciences at Virginia Tech! Dr. Jacobs's research and extension efforts focus on improving livestock health and wellbeing. At this lecture, she'll present on her recently scientific emphasis which examines how agroforestry systems affect broiler chicken welfare compared to conventional farms. She'll also discuss novel markers for positive animal welfare, assessing the impacts of body weight and age on chicken wellbeing, and regenerative farming's impact on soil health and biodiversity. This will be Day 1 of the 2 Day 2023 Regenerative Poultry Convergence, which you can learn more about and register for HERE. If you are curious about raising healthy, ethical poultry in an agroforestry system, then we encourage you to attend!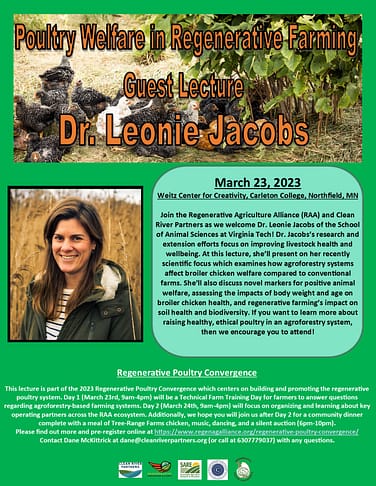 Land Dedication Event
April 12th, 2023, 4:00 pm – 6:00 pm
Little Cannon Aquatic Management Area (parking location updated soon)
Join Clean River Partners as we commemorate the conservation ethic and habitat contributions of local landowner Cara McCutchan Rodriguez. Hear from our partners at the Trust for Public Land, Great River Greening, and the DNR on how you can protect and restore habitat on your property through the Outdoor Heritage Fund. This is also a wonderful opportunity to observe the ecology of this new preserve while enjoying refreshments and answering questions with diverse conservation professionals. More details to follow, but you can save the date by registering HERE. Please contact Dane McKittrick at dane@cleanriverpartners.org (or call at 630-777-9037) with any questions.
Follow our social media pages to stay updated on events in our community, including events hosted by our many partners!
Clean River Partners Monthly Calendar