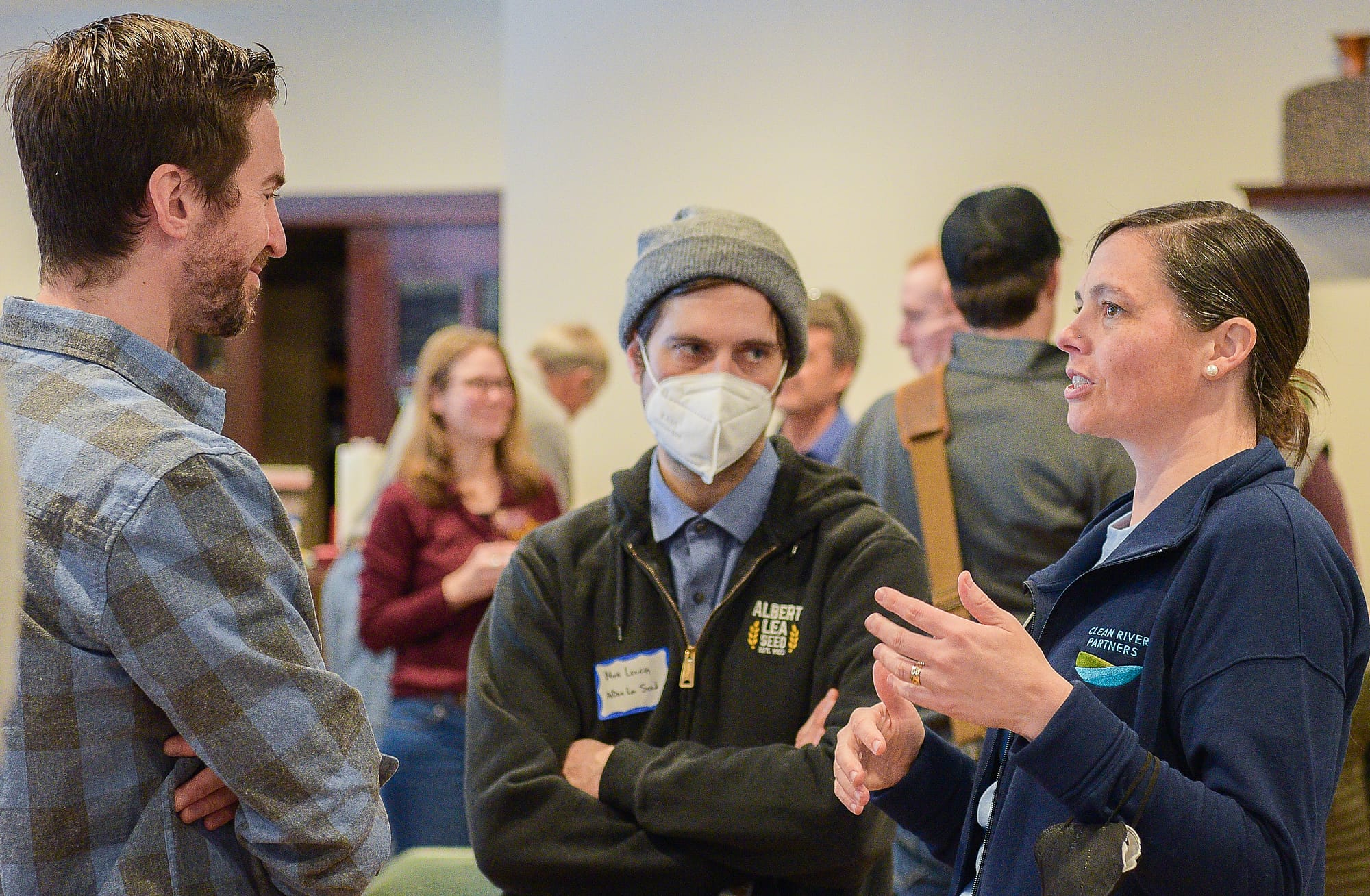 Get involved with our organization and work by taking part in one of these many great opportunities.
Job Openings
Clean River Partners is hiring a part-time Administrative and Development Assistant position.
To download the job description, Click Here.
Position Description: Administrative and Development Assistant
Reports To: Executive Director
Supervises: N/A
Status: Non-exempt, part-time hourly, 20 hours per week
Salary: $18-$20/hour, PTO
Ideal Start Date: As soon as a qualified candidate is available
OVERVIEW
This position will assist the organization and the Executive Director with day-to-day operations. This position will have flexible hours in a team-oriented small office environment. The Administrative and Development Assistant must be task-oriented, comfortable working independently, a problem-solver, and possess strong written and verbal communication, administrative, and organization skills. This is an excellent opportunity to learn about nonprofit administration in a supportive environment.
ABOUT CLEAN RIVER PARTNERS
Clean River Partners is an environmental non-profit based in Northfield, MN. We envision communities that create and protect a watershed with healthy soils; drinkable groundwater; and clean, fishable, and swimmable rivers, lakes, and streams. We partner with people and organizations to value, protect, and improve the Cannon River Watershed's land and water. Our core values of resilience, equity, and engagement guide all of our work.
ESSENTIAL RESPONSIBILITIES
Provide general administrative support to Clean River Partners and the Executive Director
Manage and document administrative processes, especially for events, grants, memberships, and reports
Manage their own schedule and help the Executive Director and the staff stay on top of deadlines
Schedule and coordinate staff and other meetings
Office maintenance: inventory and order supplies, organize files and documents, etc.
Schedule, coordinate and support Board of Directors meetings, including preparing and distributing meeting materials, preparing and distributing meeting minutes, and serving as technical support for virtual and hybrid meetings
Process bulk mailings, manage incoming and outgoing daily/weekly mail
Answer phones and distribute general messages to appropriate staff; greet visitors on in-office days
Assist with bookkeeping duties as needed
Support the Executive Director with fundraising relationships and activities such as setting appointments, tracking fundraising appeal income, etc.
Data entry into fundraising database; record, process, and acknowledge membership gifts
Send renewal notices to members
Scout, apply, and manage current and potential new grant opportunities and timelines
Additional duties and responsibilities, as assigned by the Executive Director
EDUCATION, KNOWLEDGE & SKILLS
Required
Strong interpersonal skills and ability to work collaboratively. Excellent written and verbal communication skills and proofreading experience
Attention to detail, able to handle multiple projects and prioritize appropriately
Ability to follow through on a project with minimal direction. Excellent problem solving skills
Strong organizational skills. Ability to multitask, prioritize work, and meet deadlines. Flexible and motivated with a positive attitude
Works well in a team work environment and can stay on task when working independently
Minimum two years of relevant experience
Proficiency with spreadsheets, databases, word processing, and Microsoft Office and Google Suite applications
Proficiency with shared drives, such as Google Drive
A valid driver's license and access to a motor vehicle
Preferred
Knowledge/experience with Cannon River Watershed region and communities
Experience in a nonprofit and/or environmental work
Interest in and commitment to the mission and values of Clean River Partners
Project management experience
Proven grant-writing and copy-editing experience
Demonstrated skills in the use of Vertical Response or other email newsletter publishing tool
Experience in using Google Analytics, QuickBooks, and/or website maintenance software
Knowledge/experience with support of fundraising activities such as mailing campaigns
Event organizing (or assisting) experience
Experience in volunteer coordination
Official minutes/note-taking experience
Bachelors or associates degree
WORKING ENVIRONMENT
Work is primarily sedentary, although there is some moving, travel, and carrying of lightweight items such as notebooks and work papers. Most work is performed in an office building and in an adequately lighted and climate controlled, ADA compliant space. Many staff work a hybrid schedule. This person will share an office space with a coworker, but will have a dedicated workspace. Occasional travel as well as occasional evening and weekend meetings will be part of the job.
Hours of Work
This position is a part-time, hourly, non-exempt position. The hours are 20 hours a week with schedule being negotiable sometime during Clean River Partners' normal business hours of 8:30 AM – 5:00 PM Monday-Friday. Working from home will be an option on occasion.
TO APPLY
Send a resume, cover letter, and the names and contact information of three professional references to Jennifer Tonko at jennifer@cleanriverpartners.org. Review of applicants will begin April 10, 2023 and continue until the position is filled. Clean River Partners is an equal opportunity employer.
Volunteering
We often need office volunteers to help with stuffing, folding and labeling mailings. We've got a job for you!
Many of our events also require extra help, check out our

events page

or subscribe to our newsletter to see what we've currently got going on!
Help Clean River Partners raise much needed funds to support general fund activities such as responding to citizen concerns, providing educational presentations, and programming.
For more information about volunteering, contact Kevin Strauss.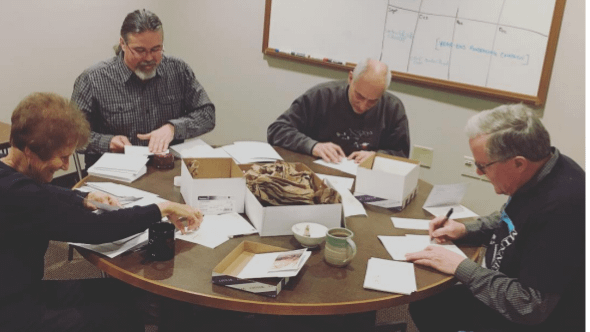 ---
Student Work and Internship Opportunities
Northfield is home to two colleges, St. Olaf College and Carleton College, and Clean River Partners is proud to work with both in many capacities. Clean River Partners sponsors academic year student work positions at both colleges and regularly hires summer interns to support our work. These opportunities are only open to current students, so please visit each college's respective job board posting for more information. For questions about student employment and internships, please contact Jennifer Tonko.
---
Join the Clean River Partners Board!
You care about clean water.
Maybe you helped to pull tires from the river, planted a rain garden, added a cover crop to your farming rotation, visited a new wildlife management area, or enjoyed paddling a river or lake. This year we welcomed Jennifer Tonko as our next Executive Director to help manage the day-to-day leadership of the organization and help us reach new goals. But it isn't just the Executive Director who leads CRP.
This is a team effort and Jennifer and the staff need the Board of Directors to help them with setting policies, managing finances, helping at events, connecting to new people, and embodying CRP's core values of Resilience, Equity, and Engagement.
Can you lend a hand on the Board of Directors? Click Here to apply!
---
Board Opportunities
Clean River Partners is governed by a 11-17 member Board of Directors who are elected each year at our annual meeting in May. The Board meets six times a year – January, March, May, July, September and November typically on the 2nd Thursday of each month at 7 PM. Dates, times and locations are listed in the calendar of events here.
Board members are expected to attend all meetings, actively participate on a committee and be a member in good standing of Clean River Partners.
If you want to do your part for clean water in the Cannon River Watershed, e-mail Jennifer Tonko to learn about opportunities and openings on our board of directors.
Board of Directors Job Description