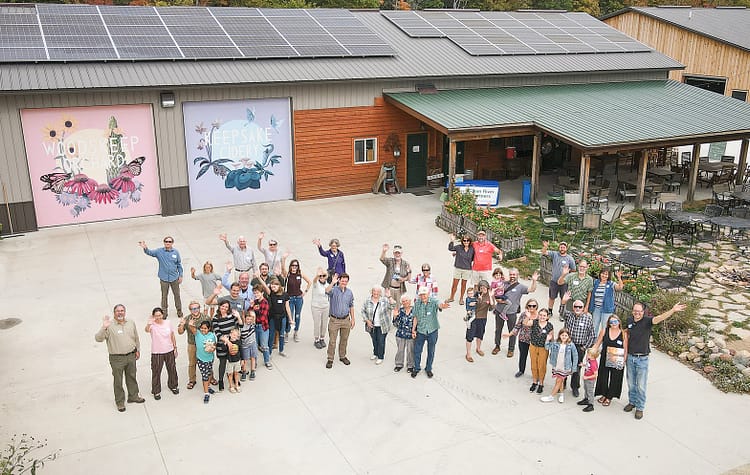 Donate
Clean River Partners is a nonprofit, 501 (c)(3) organization that relies on support from our members to do our work for clean water.
Together, the members of Clean River Partners are our largest source of general operating funds. These dollars are critical for us to be able to explore new opportunities and partnerships, to provide a safe and functional working environment for our staff, and to be flexible and creative when working toward community building and behavior change.
Join as a yearly or monthly donor. Monthly donors help us by providing ongoing, consistent support that helps us plan and makes our day-to-day operations a little easier.
$30 – Member
$60 – Friend
$120 – Supporter
$600 Protector
$1,200 – Leader
Membership
When you join Clean River Partners as a member, you're joining a community that supports: Farmers in implementing conservation practices. Research and market development for crops that are better for the environment and more resilient to climate change. Skill-building, hosted experiences, and other inspiring events to take action for clean water Education for kids and families about keeping trash and pollutants from entering our rivers and lakes. Community conversations about our river and how it connects us.
Besides the added benefit of supporting a river-friendly community, some member benefits include: monthly e-newsletter with project updates, success stories, and event information. Advance notice of special events and forums. Voting privileges at our annual meeting in the spring.
Volunteer
You can also become a member by volunteering with us for three hours or more. Members who give their time help us accomplish great things!
Administrative or Event Volunteer
We often need office volunteers to help with mailing projects. In addition to that, many of our events require extra help. Interested? Contact Teresa Tillson, our Administrative & Development Assistant, at teresa@cleanriverpartners.org or (507) 786-3913.
Board Member Volunteer
Our organization is governed by a Board of Directors that is elected each year at an Annual Meeting in the spring. The full board gathers six times a year, opposite of the months of each committee. These meetings typically land on the second Thursday of each month, in the evening. Board members are expected to attend all meetings, actively participate on a committee and be a member in good standing of Clean River Partners. If you're interested in joining the board, checkout our board member job description! Questions? Contact Jennifer Tonko, our Executive Director, at jennifer@cleanriverpartners.org or (507) 786-3913..
Meet Our Current Board!
Executive Officers: Kathleen Doran-Norton (Chair), Beth Kallestad (Vice Chair), John Hamer (Treasurer), Erica Zweifel (Secretary), Diane Angell, Jenasica Barrientos, Paul Carlson-Donohoe, Todd Churchill, Sarah Fortner, Carrie Jennings, Bill Jokela, David Legvold, Greg Neis, Margaret O'Loughlin, Juan Palacios, and Bradley Rademacher.
Continuing Our Commitment to Our Values
We acknowledge that as a Minnesota nonprofit, our actions and inactions are responsible for the government and social systems in our state and across our country that oppress Black and Brown community members. Clean River Partners is calling on its members, supporters, and friends to take action to address systemic racism in all its forms. As a primarily white-led organization, we are listening to our friends, neighbors and community members who identify as People of Color and Indigenous people. As an organization, Clean River Partners commits to doing our best to undo systems of violence and injustice, rewind the global impacts of climate change, and create new systems of resiliency, equity, and engagement as stated in Clean River Partners' Values Statement. We continue to find actions we can take together to dismantle and undo the harms caused by systemic racism in Minnesota and inside each one of us. We welcome and encourage self-reflection, conversation and then, most importantly, action. We hope you will join us in supporting the change that is long-overdue.
CRP Board of Directors & Executive Director